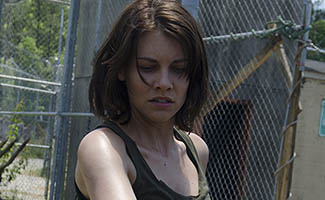 Lauren Cohan, who plays Maggie Greene on AMC's The Walking Dead, talks about her dog's love for walkers and some traits from Maggie she's taken on.
Q: After last season's finale, what were you hoping for your character this season?
A: I was mostly just hoping to see how all the characters fared from that and came out on the other side. How we were coping with whether or not the Governor was still a threat. What I was most looking forward to, which has really materialized, is a lot more character study, and we've definitely come into that this season.